Irish Rose Cabin
Formerly Rose Anne's Cabin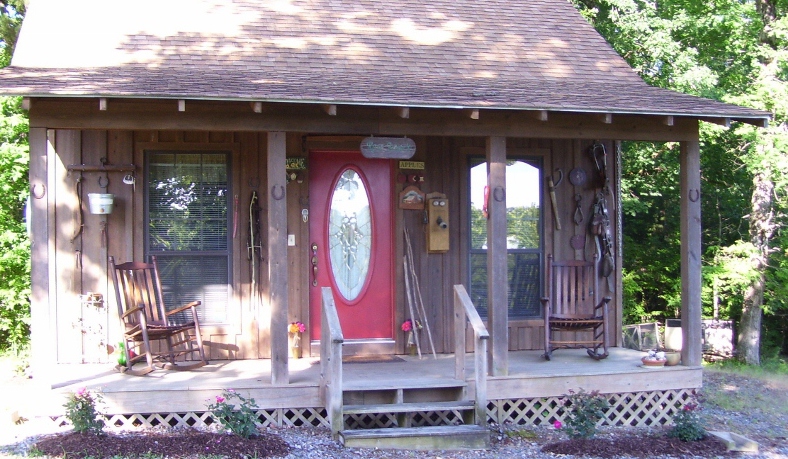 Located in the scenic Ouachita mountains of west central Arkansas,
Irish Rose Cabin features the ultimate in privacy and luxury for a peaceful, serene, and restful get-away.
For Inquiries or Reservations:
call Mike at (870) 867-3321 or (870) 867-7744
or email AdamsMike@windstream.net
or use this contact form: Contact Mike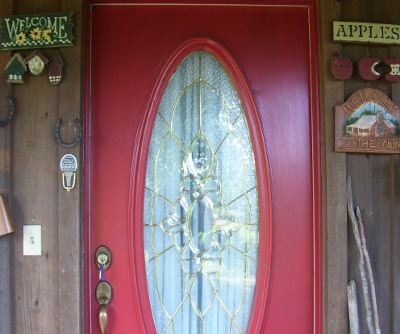 The idea for Irish Rose Cabin was born after a friend and I took a trip to Ireland in September and October of 2000, and again in 2008. We rented a car and toured the circumference of the island, staying in Bed and Breakfasts and literally living among the Irish people for the entire trip. It was the dream of a lifetime, It was like coming home, although I had never been there before.
When I returned home to Mt. Ida, I felt refreshed, fulfilled and ready to reenter my life. I considered our experience and the "Irish Rose Cabin" was born.
I believe God gave the land of Canaan to Abraham and his descendents because it was strategically placed along trade routes leading to Europe, Africa and Asia. They were able to greet travelers, host them, water their camels, and offer lodging and rest to strengthen them for their journey. Although we are not on a famous trade route, the cabin hosts a lot of weary travelers. Some arrive in need of time alone, some enjoy visiting, some need to rest and spend time with God.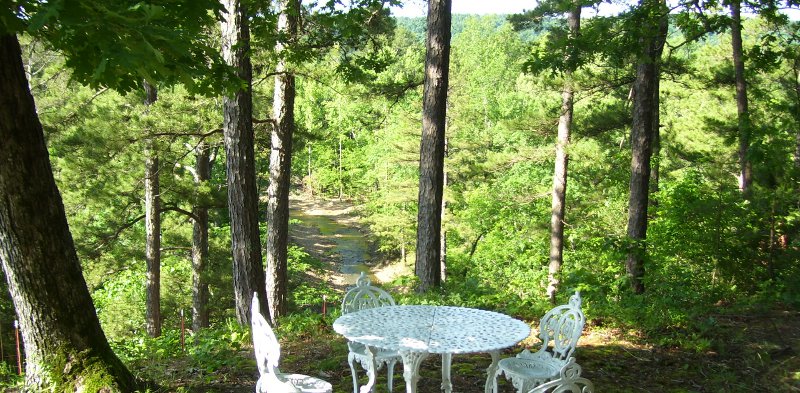 Respect of your privacy is utmost. Irish Rose Cabin is an excellent honeymoon retreat. It is smoke-free and pet-free because some guests may be allergic to them. Please consider Irish Rose Cabin for your quiet get-away. Sitting on the cabin porch and watching deer eating grass is a restful way to spend a quiet hour or so.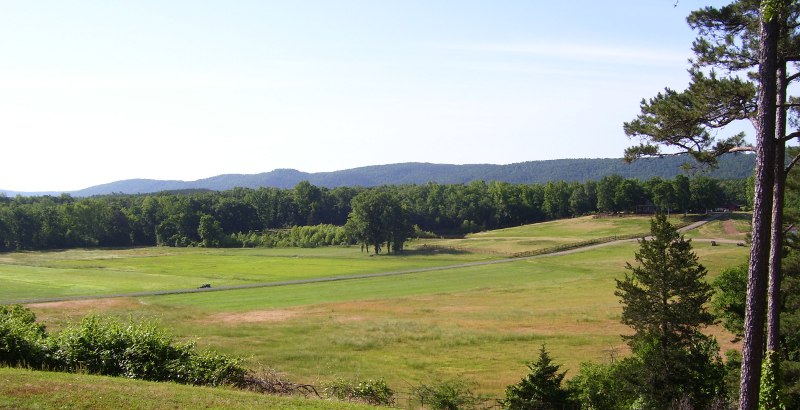 On Saturday nights the pace picks up around here, but in an old-timey way. From May thru October on Saturday nights, just two miles from the cabin, we have free, live music shows on the Front Porch Stage at the Courthouse Square in Mt. Ida. Relax and listen to some of the best bluegrass, country and gospel music from some incredible local musicians. The live stage show starts at 7 pm and runs to 9 pm (or so). Don't forget your lawn chairs and join us all in the down-home fun.
Visit the Front Porch at www.FrontPorchStage.org to get a schedule of the free shows.
Also within minutes of the cabin is Lake Ouachita and the resorts, the Womble Trail (one of the top ten hiking and biking trails in the world), canoe float trips on the Ouachita River and it's float camps.
There is excellent river and lake fishing, golf and even a spa nearby for that well deserved pampering.
Montgomery County is the Quartz crystal capital of the world, with quartz crystal shops and active mines open to amateur diggers in the immediate area.
Hot Springs is only 37 miles to our east on Hwy. 270 with its many attractions.
Mena is the same distance to the west.
If your travels take you through the Ouachita Mountains, please stop by and spend some time with us!
(as a courtesy for those new to the area, Ouachita is pronounced "Wash-i-taw")
Sincerely,
Mike Adams

your humble Innkeeper
Features include:

Remote & Scenic, yet only one mile from Mount Ida, Arkansas.

No smoking and no pets, for an odor and allergen free environment.

Warm, custom built oak furniture and hardwood floors.

Convenient Kitchenette with a mini-fridge,

coffee pot,

toaster and microwave oven.

Air conditioned
Satellite TV
DVD Player.

Now With Free WiFi Wireless Internet Service!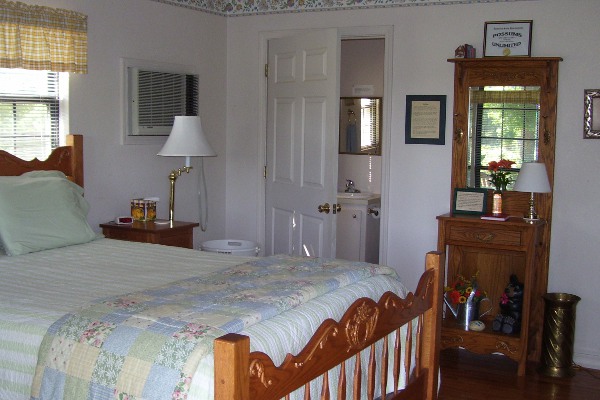 Sleeps four: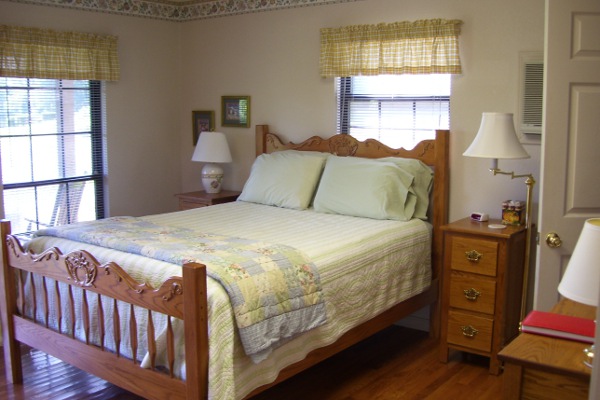 with a Queen size bed,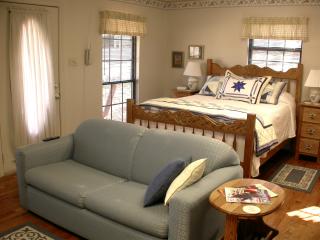 and a Double Futon .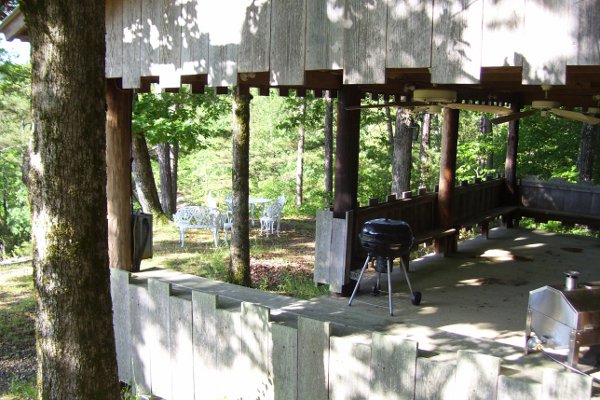 Enjoy our covered pavilion with outdoor gas grill .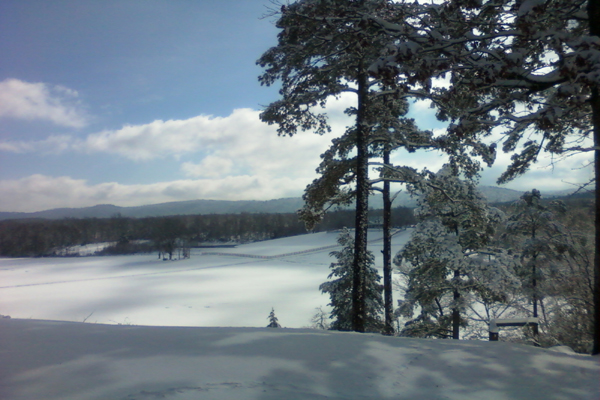 Winter Solitude .
Nature trails

Within minutes of Lake Ouachita & Resorts

Within minutes of Courthouse Lawn Concerts

$90.00 per night, double occupancy

$10.00 each additional guest
For Reservations call Mike at (870) 867-3321 or (870) 867-7744
or email AdamsMike@windstream.net
If you are encountering problems emailing Mike, use our Contact form by clicking on this link:
Contact Mike
Hello everyone, My name is Larry, and I help Mike with his web site. After months of persuasion, Mike has agreed to let me put some of the songs he has played on, onto this site. Mike is a very humble man, and he has been hesitant to publicize his music for fear of looking vain and self-promoting. The plain truth is that he plays for the pure love of music, and to carry on the traditions of bluegrass and "old-timey" country song. I felt the need to convey that humility, and to express my thanks to Mike for allowing all of us to share in his music. So, without further ado..,


Update: November, 2016
Due to the (surprising) positive responses to the music, We have expanded this portion of the site.
For your listening pleasure: